Gayle Kennedy Illustrated by Ross Carnsew

Mum is working in a community out bush for a year. When Jax and Avannah visit her during the school holidays, they go on a camping trip—and are shown inside some very special caves.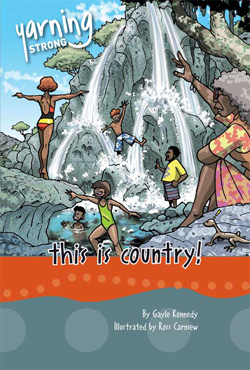 "Wow! Wow! And double wow!"
"The paintings you saw inside the cave show
women's business—women's Dreaming ..."
"Too deadly!"

Text type: This is country! is a narrative text in graphic novel form.








Themes
Importance of family heritage
Knowing the links between your family and your country
Being open to new experiences