Gayle Kennedy Illustrated by Ross Carnsew

Everyone in Avannah's family is happy—pets Mooch the pooch, Herbie the rabbit and Yurtle the turtle too! Then Mum comes home one day with some surprise news.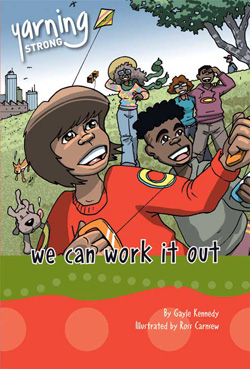 "There's a small town in the bush called Towandilla. The community want me to help them set up a medical centre there ..."
"Are you nuts, Mum?"

Text type: We can work it out is a narrative text in graphic novel form.








Themes
Families support each other to achieve their goals
Importance of putting others first
Family bonds can be strong even when they live apart