Gayle Kennedy Illustrated by Ross Carnsew

While Mum is in hospital, Yindi and Billum stay with their cousins, Regan and Riley, in the city. Life there is all about the beach, and Yindi finds it really hard to fit in.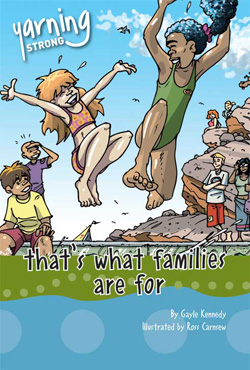 "What about you, Yindi? Want to learn to surf as well?"
"Dunno. I don't really like the beach."
"That's the dumbest thing I've ever heard."

Text type: That's what families are for is a narrative text in graphic novel form.










Themes
Importance of family bonds
Not all family members are the same