Gayle Kennedy Illustrated by Ross Carnsew

Jax and Avannah's grandmother, Granqui, was adopted. She's from the Stolen Generation. After visiting another family's traditional land, Granqui really wants to find her own mob.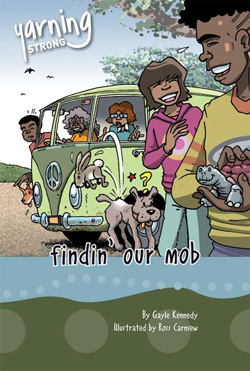 "It's time to find my mob.
Not just for me, but for you fullas as well."
"We'll help ya, Granqui."
"Yeah, we will. It's gunna be rad findin' our mob."

Text type: Findin' our mob is a narrative text in graphic novel form.










Themes
Discovery of self
Value of family
Determination