Gayle Kennedy Illustrated by Ross Carnsew

When Riley starts playing rugby league, he loves it—until a new friend from footy asks him a difficult question. All of a sudden, Riley doesn't know who he is.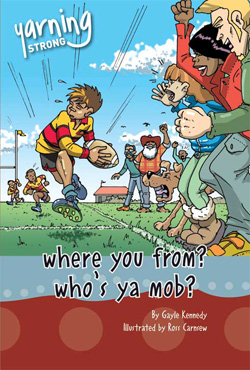 "So, what are ya then? Aboriginal or Irish?"
"I'm both."
"Ya can't be both!"

Text type: Where you from? Who's ya mob? is a narrative text in graphic novel form.










Themes
Importance of family and place
Knowing who you are
Friendship and belonging
Ancestry