Law anthology

Law. A short word with many complex meanings. This anthology explores the effects British law has had on Aboriginal and Torres Strait Islander people, acknowledges the many people who have struggled for change, and looks towards a time of reconciliation.

The anthology provides a rich source of:

individual pieces related to the topic of identity

a wide range of text types and text forms

topics that will encourage discussion, debate and critical analysis

primary source material

material by many leading Aboriginal and Torres Strait Islander academics, writers, artists and poets

both contemporary and historical information.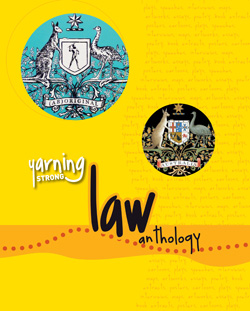 Some sample pages:
• CARTOON
• FACTUAL RECOUNT
• BOOK EXCERPT
• ARTWORK
• PLAY
• POEM