Family anthology

This anthology explores the life of Aboriginal and Torres Strait Islander peoples' families, today and in the past. There are stories on ongoing tradition, of loss and sadness, and of new beginnings.

The anthology provides a rich source of:

individual pieces related to the topic of identity

a wide range of text types and text forms

topics that will encourage discussion, debate and critical analysis

primary source material

material by many leading Aboriginal and Torres Strait Islander academics, writers, artists and poets

both contemporary and historical information.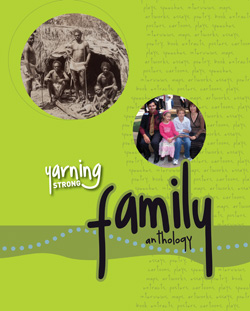 Some sample pages:
• SONG
• PHOTO ESSAY
• ARTWORK
• PLAY
• POEM
• BOOK EXCERPT