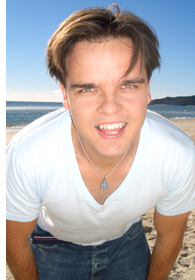 Tristan Bancks is an author, filmmaker and former nit victim. He worked as an actor in Australia before spending four years in London, writing, researching and presenting television shows on some of his favourite things – adrenaline sport, movies, music, travel and pop culture.
Since returning to Australia, Tristan has made several short films, including the award-winning Soar, and Every Day at School, which challenges classes to spend the first five minutes of every school day changing the world.
Tristan has written a bunch of books for children, including the Dream Racers series, about kids who set up a go-kart race team, and the Mac Slater, Coolhunter series, about a kooky, inventor kid who travels the world, hunting cool.
Tristan loves discovering new places, hanging out with his family and inventing stories about six-legged, blood-sucking mini-beasts.